Tour Our Clinic
Welcome to our virtual clinic tour! Central Nova Animal Hospital first opened it's doors to the public in 1987 by Dr. Ernie Prowse. At the time, the clinic was located in a facility on Pictou Road in Bible Hill, which is just outside of Truro. As client numbers increased we outgrew our facility. In 1992 Central Nova Animal Hospital relocated from Pictou Road to our current location at 29 Main Street. Our modern facility boasts a reception/retail area, five examination rooms, a full service diagnostic laboratory, pharmacy, treatment area, surgical suite, dentistry, radiology, multiple kennel areas and offices.
The following pictures allow you to see some of the areas of our clinic that clients may not normally get to visit. You will get an idea of a typical day in our busy clinic. Enjoy the virtual tour of our hospital!
---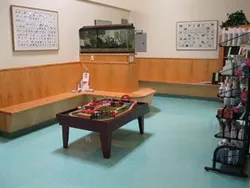 Reception Area/Waiting Room
When you first walk into our clinic, you will find yourself in the reception area, the first stop of our tour. This is where our clients and their pets wait to be seen by the veterinarian. The waiting area is large, allowing pets to have their own personal space. The further space is for cats where you can find feliway diffusers to help calm them and larger towels to place over their carriers if needed. If any of our patients are stressed by exam room excitement, we will always try to put them in a room or they may feel better waiting in the car. Our friendly staff never minds coming to your car to let you know when the veterinarian is ready for your appointment.
---
Retail Area
While you wait for your appointment, be sure to browse our retail section - we carry a variety of quality pet food products including Hill's Prescription Diet and Royal Canin, as well as leashes, Halties, grooming supplies and toys. Our staff is well educated on the different diets that we carry so be sure to check with them if you need help selecting the correct diet for your pet.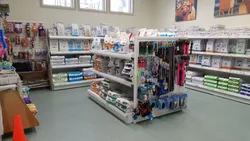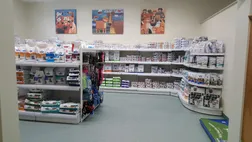 ---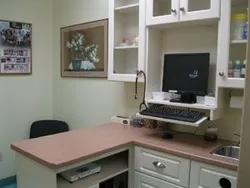 Appointment Rooms
Our clinic has five appointment rooms. Each room is equipped with everything the veterinarian needs to examine and treat an animal during their visit to our hospital, ensuring that visits are as stress free and efficient as possible.
In 2010 we brought in Electronic Medical Records, eliminating the use of paper files. We have computers in all our exam rooms and throughout the entire clinic so that we can access your pet's entire medical history including lab work and radiographs.
---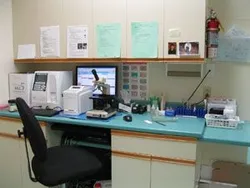 Diagnostic Laboratory
The lab is where you will often find our Registered Veterinary Technicians (RVTs) performing a variety of diagnostic testing on our patients. The lab is equipped with a microscope for looking at fecal, urine, blood cells and other types of cells. We have two blood machines; a Complete Blood Count (CBC) machine used to give an overall picture of the health of our patients and a VetScan machine for performing specific diagnostic blood testing. We are also able to run testing for Feline Leukemia Virus (FeLV), Heartworm, Lyme Disease, Parvo and various others in pets and also progesterone testing for breeding dogs. We recently added an Imagyst for analyzing fecals and will be adding a urinalysis machine in the near future.
---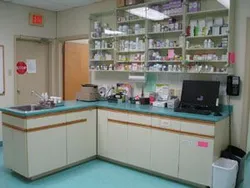 Pharmacy
Our clinic pharmacy houses a large variety of over the counter and prescription medications used to treat common illnesses and health problems in our pets. Some of the types of medications we stock include those used for vomiting, diarrhea, fleas, dewormers, pain medications and antibiotics. For those pets needing specific medications that we do not carry, we are able to special order these items from a compounding pharmacy.
---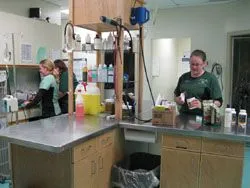 Treatment/Prep Area
Just behind the pharmacy is the preparation (or 'prep') area. This is where the technicians and veterinarians get animals ready for surgery and where our technicians and assistants recover animals following surgery. In the morning, this area can get very busy with veterinarians and staff preparing animals for their morning surgeries. During recovery after surgery, our technicians and assistants may clip your pets' nails, apply flea treatment, insert a microchip, clean your pets' ears or brush their coat. Once the animal is awake, they are moved to a comfy kennel to fully recover from the surgery. This area is also where the veterinarians will bring an animal during an appointment if he or she needs an assistant's help for performing a treatment (nails clipped or blood taken for example).

---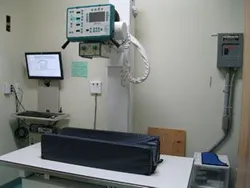 Radiology
Just off the prep area is the radiology room, equipped with a digital x-ray machine. This is similar to a digital camera, allowing us to see the x-ray almost immediately after we take it. Our digital x-ray machine allows us to visualize in great detail your pet's internal organs as well as the tiniest of bones, meaning we can pick up on illness or injury more efficiently.
We also have an ultrasound machine that can be used for further evaluation of internal structures. One of its more popular uses is in pregnancy confirmation!
Dr. Troye McPherson has a special interest in ultrasonography and will frequently take referrals for this service from other veterinarians. She has a keen eye and is great at reading the ultrasonic images.
---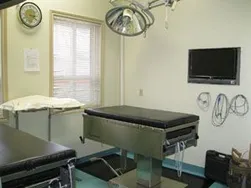 Surgery Suite
Our surgery suite has two operating tables each equipped with an anesthetic machine. We have a variety of anesthetic monitors including a state-of-the-art Cardell which allows us to track oxygen, carbon dioxide, heart rate, blood pressure, ECG and temperature of our patients. An
electro-cautery machine may be used
to control bleeding and speed healing time.
A Hot Dog Warming Blanket makes sure that your pet stays warm during surgery, and during recovery they will be wrapped in warm fleece blankets.
As an
AAHA
approved clinic we maintain high standards for anesthesia, surgery, pain control and sterility to keep your pet safe and comfortable during surgery. Our veterinarians are all experienced surgeons with different areas of expertise, with Dr. Ed Macmillan providing specialized orthopaedic procedures varying from fracture repair to Cranial Cruciate Advanced Procedures such as TTA (Tibial Tuberosity Advancement).

---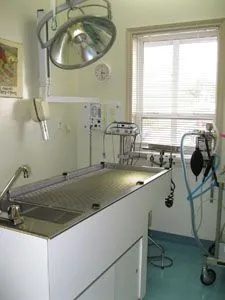 Dentistry
Dental care for pets is very important and dental disease is very common. Routine dental cleanings can help keep your pet's teeth clean and maintain overall health.
When an animal has his or her teeth cleaned, they need to be under general anesthetic so our dental room is equipped with an anesthetic machine. In addition, other tools found in this area include an ultrasonic scaler, drill and polisher similar to those used on people. We also have a digital dental x-ray machine for detecting damage to the root of the tooth. Extractions are a common necessity when trauma happens or periodontal disease has progressed.
The unique table with hot and cold water allows this space to be used for other procedures such as wounds and abscesses and the placement of urinary catheters.
---
Kennels and Runs
Having a comfortable space for your pets stay is important. We have separate kennel areas for dogs and cats, and a bank of kennels in our treatment area allowing for close observation of pets. All our pets are bedded on fleece blankets and comforters and we have memory foam beds for orthopedic patients. Cats are often provided small boxes to hide in or comfy cat beds that one of our clients makes for us! We use anti-anxiety feliway spray and sometimes a touch of catnip to minimize their stress.