At Central Nova Animal Hospital our priority is the rapid identification of our patients' medical problem to allow appropriate, specific treatment to begin as soon as possible. As well, many apparently normal pets have significant hidden problems, making diagnostic testing necessary for both pre-surgical screening and as a part of a preventative health care plan.
Laboratory
Our well-equipped in-house laboratory allows for rapid turn-around of test results. Staffed by Registered Veterinary Technicians, we have the capacity to do routine blood, urine and fecal testing. We routinely use slide cytology during our appointments to aid in the management of skin and ear problems and in the assessment of lumps and bumps. In addition to our on-site testing, we regular courier samples to commercial laboratories for more advanced diagnostics.
Radiology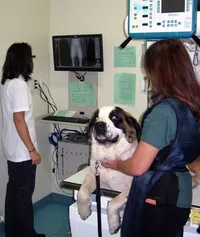 A digital x-ray machine is similar to digital camera, allowing the radiograph to be viewed immediately after it is taken. When working with awake, often wiggly pets this markedly improves efficiency and the quality of the views allowing for better diagnosis. These radiographs can easily be emailed to specialists for review and to owners if they wish for a copy.
We routinely do radiographs for OFA Evaluations. Our dental X-ray is also digital. We also have an ultrasound machine which is commonly used for abdominal evaluations, although for advanced screening referral to a board certified ultrasonographer is recommened.
Miscellaneous
Blood Pressure: Blood pressure assessment in pets is more difficult than humans as a stethocope cannot be used. We have two types of blood pressure equipment (an oscillometric monitor and a doppler monitor) and can choose the most effective one for individual pets. These monitors are used both for anesthetic monitoring and for routine blood pressure assessment, especially in pets suffering from kidney or heart disease.
ECG: We have the capacity to run in-house electrocardiograms and do direct-to-specialists through electronic transmission.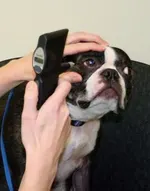 Glaucoma Screening: Glaucoma is the most common cause of blindness in pets. Using a digital tonometer we can monitor eye pressure and catch the development of abnormalities early, before permanent vision loss occurs.